Mini-Millionaires Club
Mini-Millionaires Club- Instilling Good Financial Habits at a Young Age
A savings account just for kids age 12 years and under
The sooner kids can be exposed to money – what it is, how it is used, spending and saving – the sooner they can develop solid financial habits. F&M Bank helps kids in our communities get started by offering the Mini-Millionaires Club.
The Mini-Millionaires Club is a great way for you to get your child used to saving money, illustrating the difference between deposits and withdrawals and managing an account using an account register. Here's how the club works:
The child is enrolled by their parent or guardian and a Student Savings account is opened, as it has no monthly fee or minimum balances for account holders under age 19.
A stuffed "Percy the Penguin" is included upon enrollment in the club along with a membership card and special savings account register.
Your child will begin receiving periodic newsletter filled with great tips about saving and managing money.
There is an annual Mini-Millionaires party, a fun event for all ages!
Upon reaching age 13, Mini-Millionaires members automatically graduate to our Teen Banking Club (coming soon-watch for details).

Our members keep up to date on club activities, benefits, and fun puzzles, etc. through our Mini Millionaires News which is issued periodically throughout the year. Click the image to the left to read our current newsletter.
The current issue is also available shortly after publication at any of our banking locations.
---
Teen Banking Club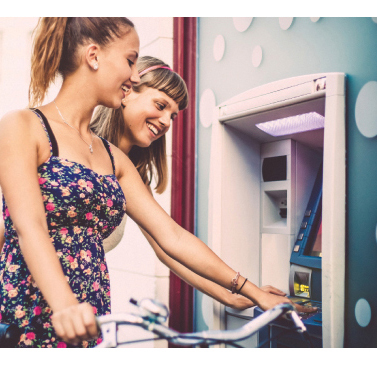 For ages 13 through 18
As a child transitions into being a teenager, their perspective on money and their financial responsibilities begin to change. They may get their first part-time job, they might start driving, and they're very likely to have more wants and needs when it comes to money. F&M Bank's Teen Banking Club helps a child transition to adult-level banking services. Program features include:
Membership is open to ages 13 through 18.

Eligibility for a checking account (along with a parent of legal guardian) to compliment your Student Savings account begins at age 13.

Earn $5.00 for downloading our mobile banking app when you open you new account.

A "good grades" bonus is available for scholastic achievement. At the end of each semester, teens can earn $5.00 for a GPA of 3.5 or higher.

Membership automatically ends at age 19. The Student Savings Account will automatically convert to a Savings Account, subject to any fees and minimum balance requirements that may be in effect at the time*.
It's Easy To Get Started!
To learn more, to open a new Student Savings Account, or to enroll a child in the Mini-Millionaires Club or Teen Banking Club, simply contact any of our convenient locations. We'll be glad to provide more information and to help you get started!
Contact Denise Haptonstahl, Club Coordinator at F&M Bank
For more information about this program that will help your child learn financial habits they can use for life, contact Denise Haptonstahl at (309) 343-0002 ext. 20667 or stop by our 21 E. Main St., Galesburg location today.
*Currently our Regular Savings Account plan carries a $100 minimum daily balance requirement in order to avoid a monthly fee. Other savings and checking plans are also available.